---
Olodum is an internationally acclaimed Afro-Brazilian cultural group from Bahia, Brazil. Olodum (pronounced oh-lo-doon) was founded in 1979 as a bloco afro (African Bloc), a Bahian Carnival association highlighting African heritage and black pride through music, dance theater, and art. From their home city of Salvador da Bahia in Northeast Brazil (often described as the most African city in the Americas), Olodum has dedicated itself to cultural activism in the struggle against racial discrimination and socioeconomic inequality.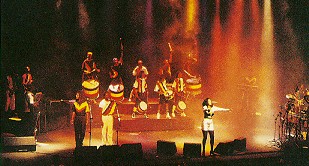 Olodum takes its name from the Yoruba deity Olodumaré. They focus their yearly Carnival themes on controversial issues such as black power and socialist movements in Africa and the African Diaspora. In the mid 1980s, the head drummer in the group - Mestre Neguinho do Samba - experimented with Afro-Caribbean rhythms and mixed them with the Brazilian samba. He divided the large surdo bass drums into four interlocking parts and layered the high-pitched repique drums in additive rhythms on top. The result was a new style of music dubbed samba reggae that quickly dominated Bahian Carnival. In the late 1980s Olodum assumed premiere position among the blocos afro in Bahia and became internationally known. They formed a professional musical band Banda Olodum which has now recorded over ten CDs. Olodum musicians have worked with international luminaries such as Michael Jackson, Paul Simon, and Spike Lee.
During Carnival season the group now parades with some two hundred drummers, singers, and thousands of costumed members. But the group's activities go well beyond Carnival and music. Throughout the year they sponsor seminars, speeches, and conferences on social and political issues and publish a monthly news journal, Bantu Nagô. They operate a factory where they make drums, costumes and other items which they sell to the public. Olodum also runs an inner-city school for Salvador's underprivileged children in which they teach a full array of academic and arts courses in order to build self-esteem and encourage economic ascension among Salvador's younger generation.
---
In 1993 João Jorge Santos Rodrigues, then president of the Grupo Cultural Olodum, was invited to the University of Florida to participate in a Center for Latin American Studies conference entitled Black Brazil which was organized by Dr. Larry Crook (UF Department of Music). During subsequent trips to Bahia by Dr. Crook the groundwork was laid for a formal linkage between Olodum and the state of Florida. In 1995 an agreement was signed between the Olodum and two Florida entities: the UF College of Fine Arts and the Florida/Brazil Institute. It is the goal of this agreement to strengthen cutural and educational ties between the state of Florida and the state of Bahia, Brazil.
At the beginning of 1996 Attila joined the World Music Ensemble - Jacaré Brazil - at the University of Florida conducted by Dr. Larry Crook. At that time I was an international student at UF with only one semester to go. All my life I have been participating in making music, played guitar and some drums. The music that Jacaré Brazil played was mainly percussion and drum based. I knew little about what it was and where it was from.
Towards the end of March, 1996, four artist-members of the Olodum group came to UF to rehearse with Jacaré Brazil. Then it dawned on me that we were playing Olodum's music. The four members that came were Gilmário Marques de Andrade (Percussion), Fernando Itapã (Guiar and Vocals), Bartolomeu "Memeu" Nunes (Percussion), and Tânia Maria Santiago Santos (Dance). They were accompanied by João Jorge Santos Rodrigues, and Esmeraldo "Billy" Arquimimo (Directors). As soon as they "joined" the group, our music adopted the real character of the firing rhythms of Bahia along with their Brazilian melodies and vocals. Adding dancers performing the passionate and enchanting Bahian dance moves to this music created a breathtaking atmosphere full of color, vividness, and energy.

---
To top off our practice with Olodum, a concert was organized at the University of Florida on April 5, 1996, with Olodum, Jacaré Brazil, and special guest Agbedidi. On that evening, every seat of the concert hall was taken and doors had to be closed, much to the disappointment of many guests from surrounding cities and other late comers. After the moving introduction by João Jorge and Billy, Jacaré started the concert with two instrumental pifano pieces from the backlands of Northeast Brazil, "Asa Branca" and "Assum Preto". The following two pieces "Frevo #1 and "Averdade é esta" were frevos, a fast march-like music unique to the Carnival from the northeastern city of Recife.
Next, the African Agbedidi ensemble, joined by Olodum's Gilmário and Memeu, performed the "Ewe warriors' dance", a Ghanaian Traditional.
The third part of the concert featured the combined forces of Jacaré Brazil and Olodum performing rhythms, songs, and dances of Olodum. We started with "Toque de samba reggae", a pure percussion piece in the samba reggae rhythm. "Olodum Ologbom" is also a samba reggae with lyrics both in Yoruba and Portuguese speaking about the global history of African culture. This song is an older Olodum song and is set for voice and percussion only. The next four songs are more representative of Olodum's later style, adding harmonic instruments such as guitar, cavaquinho, bass guitar, and keyboards. "Trem da história" ("Train of History") and "Olodum, a banda do Pelô" (Olodum, the band from Pelourinho") are both in the samba de roda rhythm. The tradition dance for samba de roda features a circle into which various dancers are "called" to show-off their moves. Olodum's creative adaption of the Jamaican reggae rhythm is featured in the song "Nossa gente" ("Our People"). We ended the concert with the song "Rosa", one of the hit songs of Olodum's 1994 Carnival. Set to the Bahian-style merengue, it highlighted the choreography of Tânia Maria Santiago Santos and her guest dancers. "Rosa" ended in a slow and emotional part with all performers on stage and holding hands. Then the curtain closed.
By that time, few people were still sitting in their seats and the crowd demanded more. We decided to play "Nossa gente" one more time, and it came out incredibly full of energy and emotions, and the force of the rhythm moved everybody. When the curtain opened again, the audience was dancing in the walkways, jumping up and down, clapping hands, and singing along. All the dancers joined again adding even more motion, color, and life. For a moment, I closed my eyes, and it felt as if I was in heaven...
---
On July 26, 1999, Olodum was live in concert in Zürich, Switzerland as part of their 1999 Europe tour. This coincided with our summer vacation in Switzerland, and of course, we went to see them.

Olodum toured Europe with the complete setup, including drums and percussion, vocals, melodic instruments, and dancers. As usual, the five surdos lined up on an elevated platform towards the back of the stage, with the two repiques and the caixa in the front. The Master of the band was on the right front of the stage, facing the drummers. The brass instruments and bass guitar were to the left, and the keyboard was on the right of the surdos. The singers were in the left front, which left enough space for the show of the dancers in the middle of the stage.

Needless to say, the show was very powerful, full of energy, color, and life. The drummers around Mestre Memeu hypnotized the crowed with the samba-reggae rhythms Olodum is known for. With Marquinhos, Lazinho, and Reni on vocals, Olodum performed many of their classics and some of their newer songs, ranging from "Requebra", "Samba Reggae", "Rosa", "Vem Meu Amor", "Berimbau", "Nossa Gente (Avisa Lá)", "Cartão Postal", and "Samba Rap" to more recent ones like "Bora Bora", "Tiro Seco", and "I Miss Her". "Tequila" was one of their newest songs, which is to be released on their upcoming CD. This was another piece during which the dancers displayed some amazing steps and energized the audience. Olodum also covered two all time favorites, adding their unmistakable touch and driving the crowds crazy: "La Bamba", and a very moving version of "No Woman No Cry". One song followed the other during this uninterrupted two hour show, and the audience was torn between engaging in dynamic samba-reggae style dancing, and falling into a state of trance, feeling every beat of the drums deep down inside, and letting the syncopated rhythm take over. When the show was over, the crowd kept cheering, and Olodum appeared for two encores: "Tequila" and "Tiro Seco".

After the show, we talked to Billy, Olodum's cultural director, who was in the lobby selling Olodum shirts and CDs. He didn't change much at all: he was the same friendly and calm person that he was a few years ago. I reminded him about the time in Florida, and he was happy to remember and gave us a warm greeting. We also talked about Olodum's upcoming trip to Seattle, and we parted looking forward to seeing each other again soon...

---
Olodum
Roma Negra
Gladiadores da Negritude
Winter 1996

Olodum
Sol e Mar
Ao Vivo em Montreux Jazz Festival
Winter 1995

Olodum
10 Anos
Do Deserto Do Saara Ao Nordeste Brasileiro
1989

Olodum
Núbia
Axum Etiópia
1988

Olodum
Egito
Madagáscar
1987
---
---
This page was created in August 1996 by Attila Narin <attila@narin.com> and was last updated on February 16, 2003.
Copyright © 1996-2003 Attila Narin. All Rights Reserved.